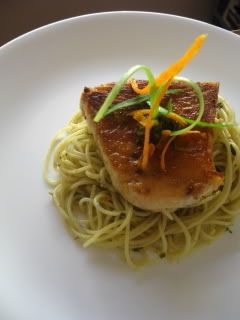 For the first time, I've decided to cook some fish-- even though my dad thought that some fishy smell was gonna stay in the house forever. But he thought wrong. :O I got the recipe from
Giada De Laurentiis'
book,
Everyday Pasta
. I changed it a little because I
don't have a grill
so I pan-fried it instead.
Fish:
Swordfish seasoned with Salt, Pepper, and Olive Oil.
Pasta:
Citrus Pesto
1 bunch of fresh basil stemmed [3 cups]
1/2 c. toasted pine nuts
1 clove of garlic
zest and juice of 1 lemon and 1 orange
1/2 teaspoon salt
1/2 teaspoon pepper
1 c. parmesan cheese
Boil Pasta [I used angel-hair]. Drain and Reserve 1/2 c. of water. To make the pasta, blend the basil, pine nuts, garlic, lemon and orange zest and juice, salt, and pepper in a food processor until finely chopped. While running, slowly add olive oil so that the pesto is smooth. To save time, you could always buy
premade pesto sauce
and add the citrus ingredients. I did that and shoot, it still tasted
phenomenal
and hey, it's like
Sandra Lee's
Semi-Homemade
.
Grill Swordfish. And serve pasta topped with parmesan. Place a swordfish on top and garnish with some zest.
Yay. :D
oh yeah
by the way guys... it's
summer
...